Barrafina Invita 03: Jordi Bross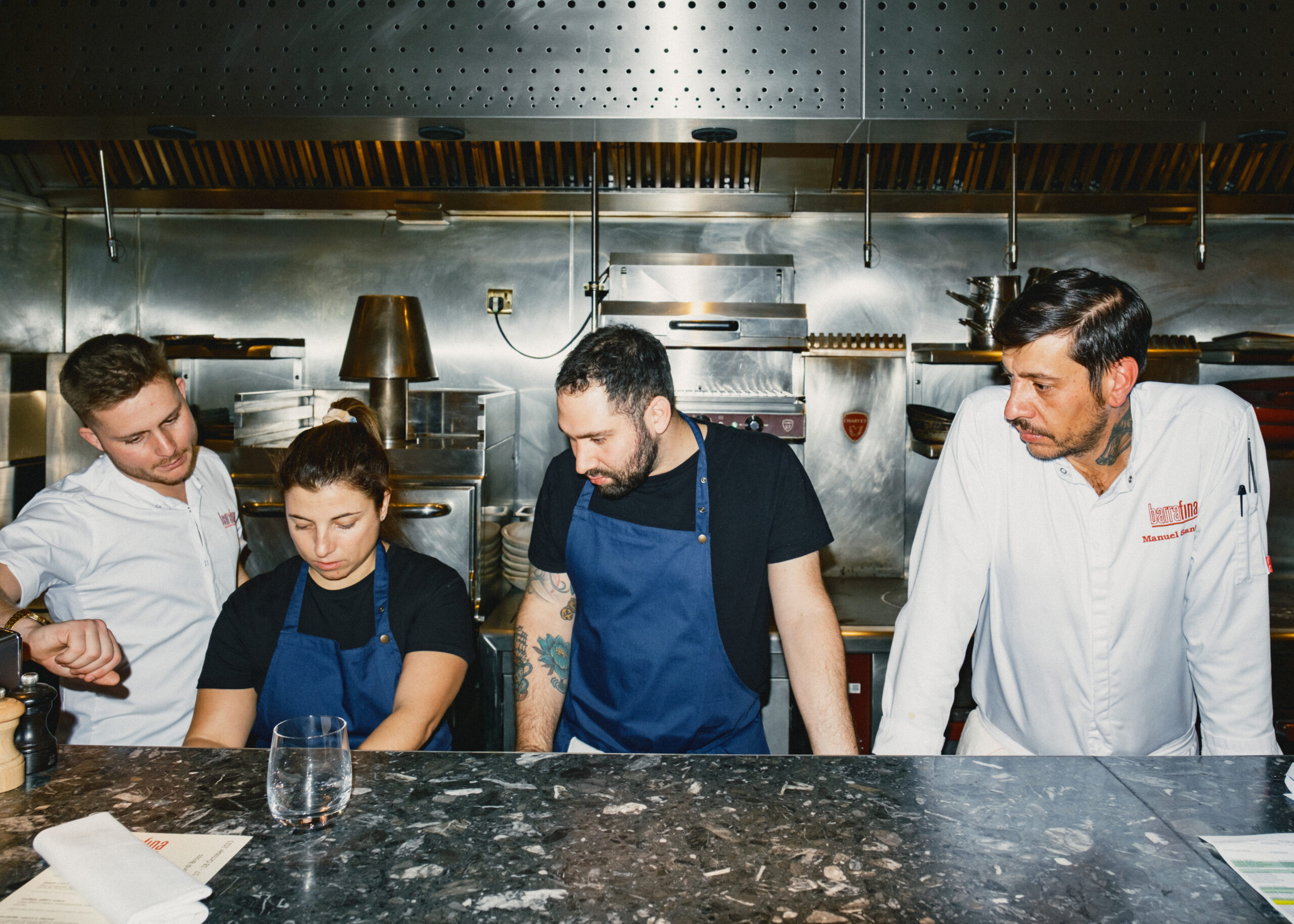 Barrafina and popular restaurant booking platform, Resy, are proud to announce Jordi Bross of two-Michelin star restaurant in San Sebastián, Mugaritz, as the third guest chef in the quarterly series showcasing the breadth and quality of Spanish cooking from all over Spain and the rest of the world.
Barrafina Invita is a quarterly series where Barrafina's Executive Chefs, Antonio Gonzales Milla and Francisco Jose Torrico, invite the best Spanish chefs or chefs cooking Spanish food, over to cook a special menu for two days at Barrafina Borough Yards.
Born and raised in Mexico City, Jordi Bross moved to one of the world's most exciting gastronomic destinations, San Sebastián, at the age of 22 to study at the prestigious Basque Culinary Center. Since then, he has lived and worked across the globe, including the US, Panama, and Italy, training under the tutelage of some of the most influential chefs of our time, such as Andoni Luis Aduriz and Massimo Bottura, and contributing to culinary research projects with the Galápagos Foundation in Ecuador. In 2020, he was recognised as one of '100 Top Young Talents of Gastronomy' in Spain by Gastroeconomy.
Returning to San Sebastián at the age of 28, Jordi joined the internationally renowned restaurant, Mugaritz, where he has risen through the ranks to become Head Chef.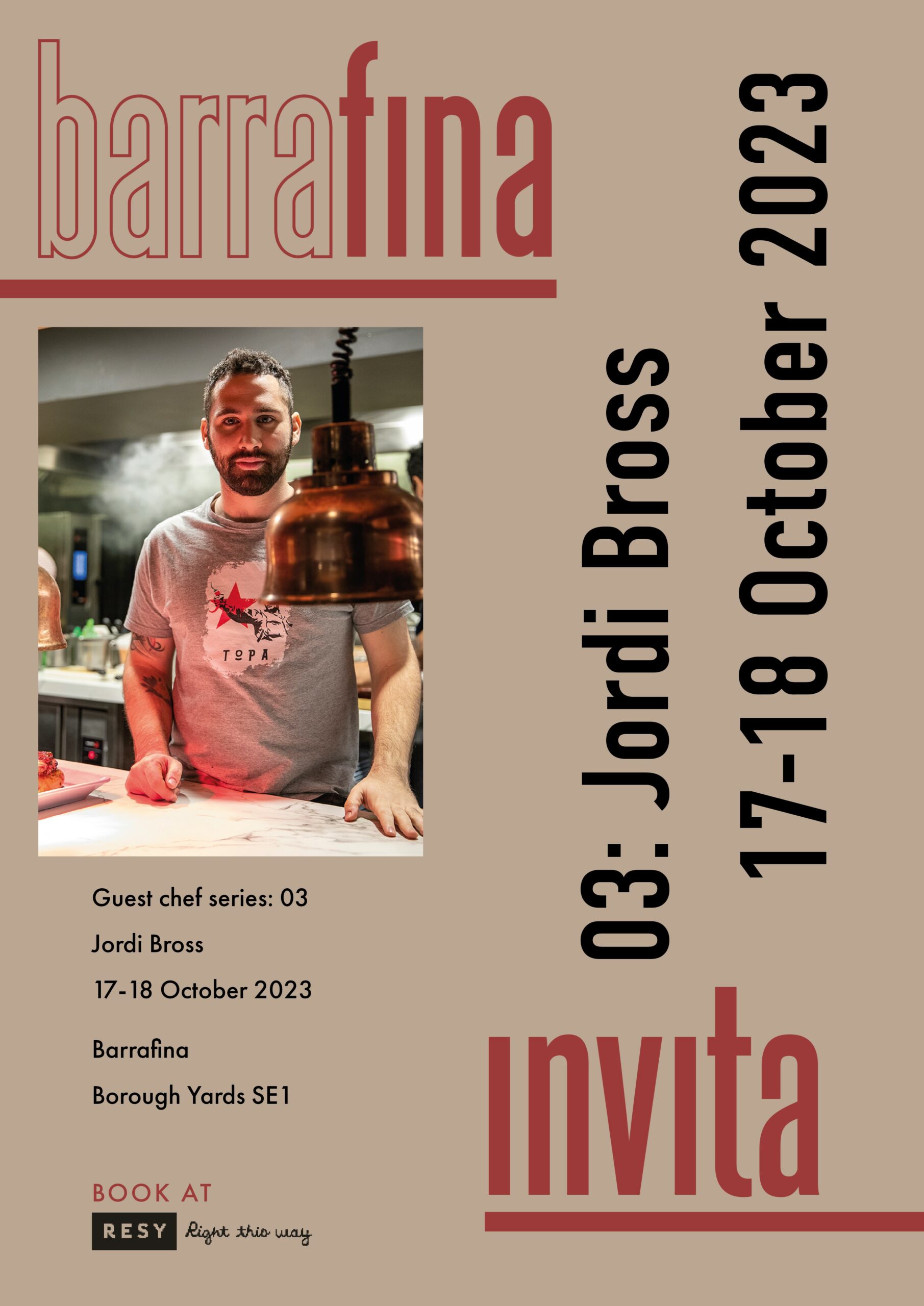 The tasting menu carefully designed by Jordi will be playful, ingredient-led, and innovative. Dishes include:
Gamba y Wagyu – Prawn & Wagyu
Confit red prawn in wagyu fat served with a burnt sheep's milk cream.
Higo, Nata y Caviar ​​​​​​​- Fig, Clotted Cream & Caviar
Chargrilled fig, stuffed with a mix of herbs and green leaves, clotted cream and caviar.
Kipper con Huevos – Kippers & Eggs
Fillet of kipper, slow cooked egg yolk with cep powder and bottarga.
Molleja, Pibil y Erizos – Sweetbreads, Pibil & Sea Urchin
Crisp fried calves' sweetbreads, glazed with a Pibil sauce and topped with sea urchin.
Membrillo, Sauco y Oloroso – Quince, Elderflower & Sherry
Sherry-glazed quince with a tonka-bean whipped cream, flavoured with elderflower and extra virgin olive oil.
​​​​​​​
Barrafina co-Executive Chef, Francisco J. Torrico says, "This is an event we have been working on for months in preparation, with great excitement. We are honoured Jordi will be joining us in October for a truly unique dining experience".
Jordi Bross will be cooking a special set menu at Barrafina Borough Yards on the evenings of 17th and 18th October. Bookings are available via Resy for the 17th October: https://resy.com/cities/ldn/venues/barrafina-borough-yards/events/barrafina-invita-jordi-bross-2023-10-17-2 and 18th October: https://resy.com/cities/ldn/venues/barrafina-borough-yards/events/barrafina-invita-jordi-bross-2023-10-18-2
The experience is priced at £85 and includes a set menu. Drinks and service not included.
Private Dining
We have several private dining room or exclusive hire options across our venues, suitable for both intimate parties and larger events. If you can't find what you are looking for, our events team are happy to discuss a personally tailored event.
READ MORE