Bar Daskal Maestros 02
Featuring Mexican DJ, Nota Culichi at El Pastor Soho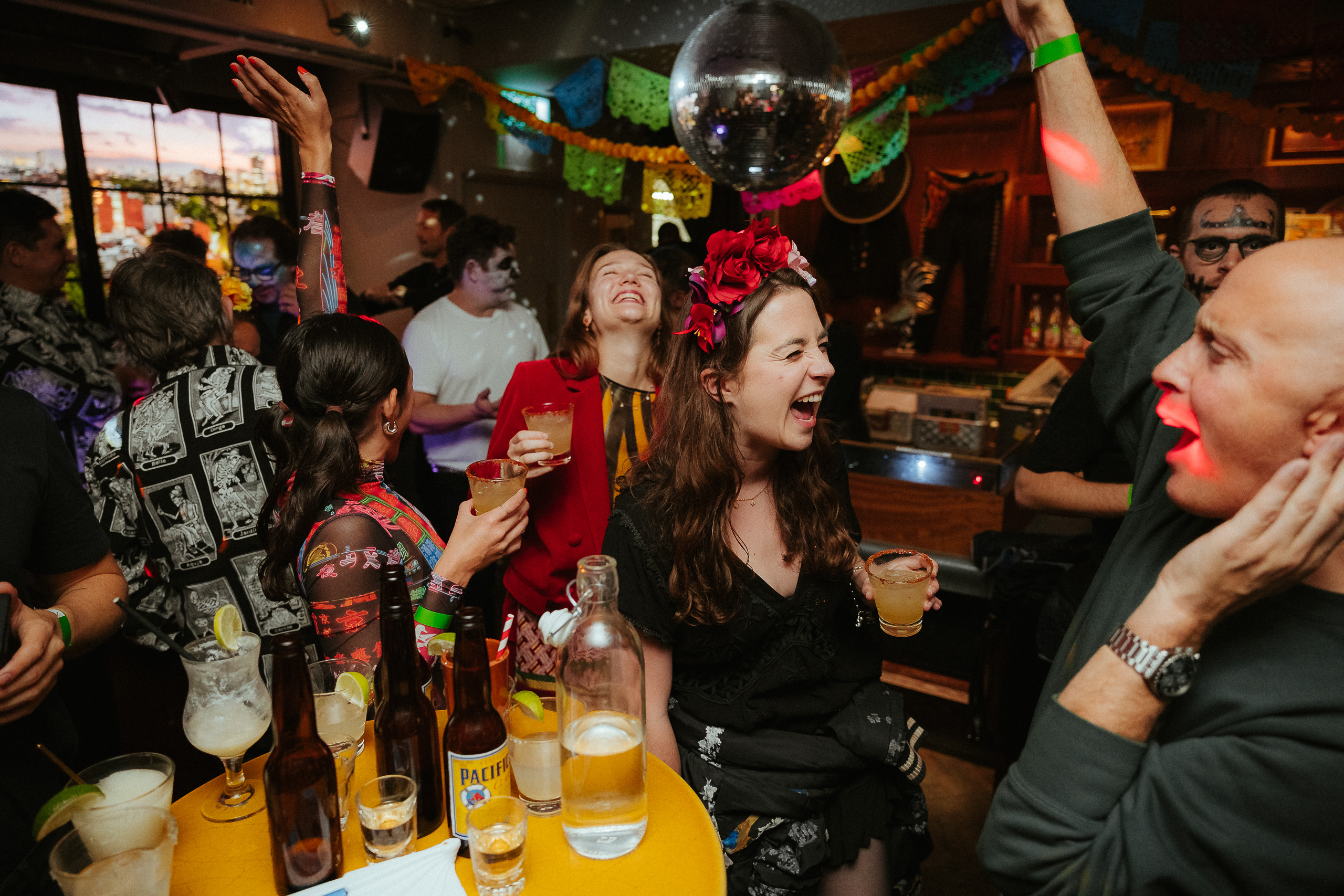 Dia de Muertos, or Day of the Dead, is one of the most important holidays in Mexico, honouring and remembering those we have lost. It is traditionally celebrated on the 1st and 2nd November. The Pastors will begin their own celebrations in the week leading up to Dia de Muertos, culminating in a huge party on Friday 3rd November.
From 9pm until 3am on Friday 3rd, El Pastor Soho's basement bar, Mezcaleria Colmillo will host the next in the 'Sonidos' party series, in partnership with Tequila Herradura and in honour of Dia de Muertos. Mezcaleria Colmillo is beyond excited to have Mexican DJ and singer Nota Culichi flying in to play her European debut, for one night only. Hailing from Culiácan, Sinaloa, Nota Culichi is known for her unique and charismatic style, as well as pioneering the hybrid 'Perreo Norteño' genre. She will be supported by Rufus (Coop Audio) who returns to London after a recent stint in Mexico City, known for his mash-ups of Reggaeton, Cumbia, Afrobeats and Baile Funk, alongside Movimientos DJs. Expect a night of dancing, and music with a notable norteña influence, and plenty of saludos to the departed.
Tickets are £15, include a welcome shot of Tequila Herradura and are available via Resident Advisor here: Sonidos: Dia de Muertos with Nota Culichi at Mezcaleria Colmillo, London · Tickets (ra.co)
Fancy dress is encouraged.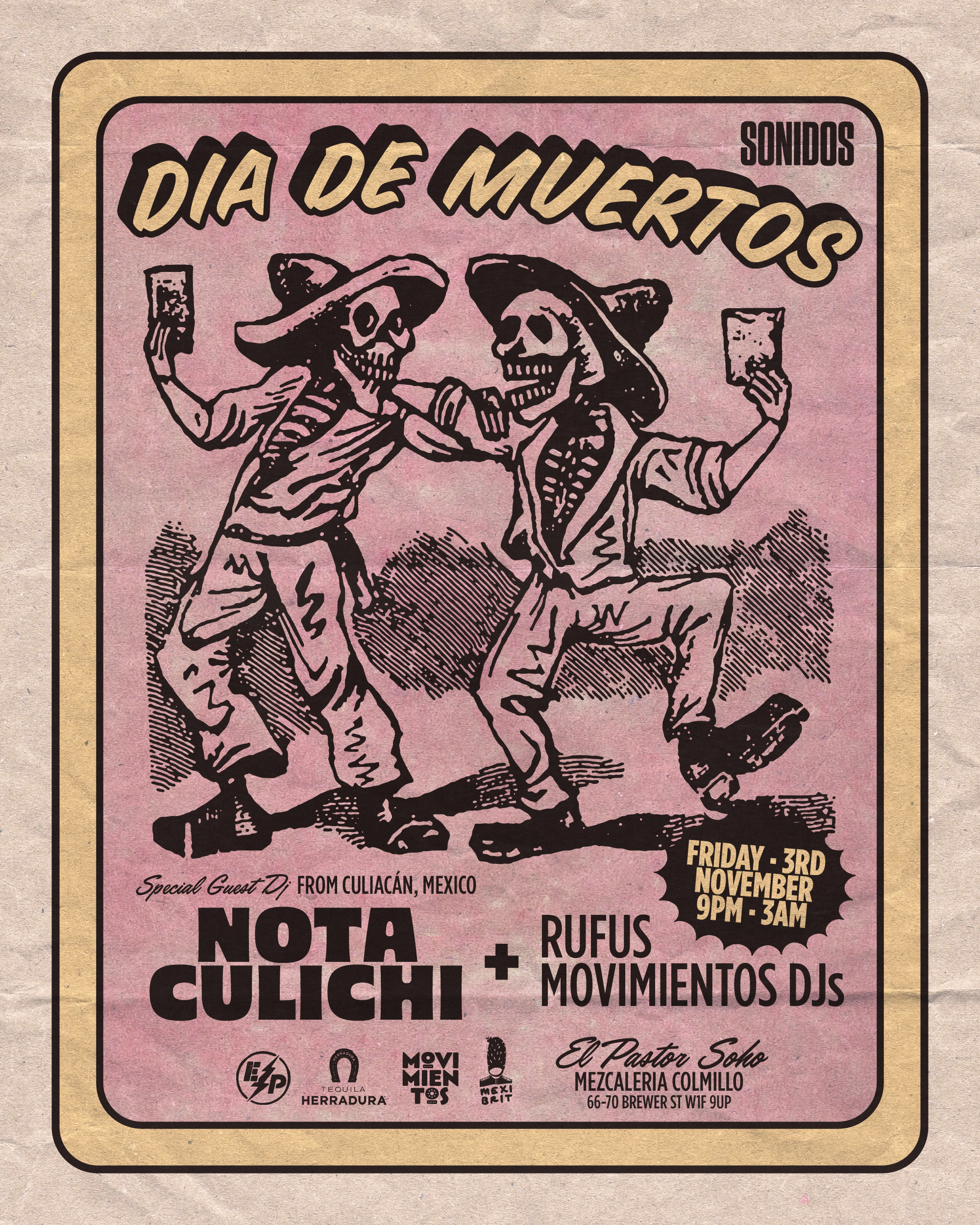 An integral part of Dia de Muertos is the 'ofrenda'; an altar to remember the dead, invite them back and remember happy memories shared in life together. El Pastor Stoney, El Pastor Soho and Casa Pastor will each have an ofrenda on display from the 26th October until 6th November. Each will be created by Florencia Denti, a Mexican artist who holds a Masters in the Royal College of Art, is a trustee of the UK Mexican Art Society and has previously worked with the Mexican Embassy.
The hand-made ofrendas will hold candles, which are lit for the deceased, as well as tequila, mezcal and traditional Mexican snacks, courtesy of MexGrocer. Cempasuchil flowers will also adorn the ofrendas and the legend goes that the petals of the Mexican marigolds retain the heat of the sun to help call the deceased home by marking a path for them.
With these golden flowers in mind, El Pastor Group's Head of Bars Carlos, has created a Marigold Margarita, made with El Jimador tequila, Cointreau, lime juice, orange juice and home-made marigold syrup, served on the rocks with a spicy Tajín rim; and a Marigold Mezcarita alternative, made with Ojo de Dios mezcal instead of tequila. Both cocktails will be available at El Pastor Soho, El Pastor Stoney and Casa Pastor for two weeks from October 26th.
Finally, for those unable to join us in the restaurants for the festivities, El Pastor is delighted to introduce a new finish-at-home Taco Party menu for Dia de Muertos; El Pollo Borracho (drunken chicken). Designed to share, a half chicken is beer-brined, then marinated in Mojo Rojo, served with white cabbage slaw mixed through with La Maya mayo and queso fresco, chile de arbol potatoes and fresh corn tortillas.
Additional tostadas, sides and drinks can be added on, should you wish. Order from 23rd October for delivery on 3rd November via: https://www.dishpatch.co.uk/menus/collection/restaurant/el-pastor
El Pastor begins Dia de Muertos celebrations from 26th October with Dia de Muertos party tickets available here: Sonidos: Dia de Muertos with Nota Culichi at Mezcaleria Colmillo, London · Tickets (ra.co)
Private Dining
We have several private dining room or exclusive hire options across our venues, suitable for both intimate parties and larger events. If you can't find what you are looking for, our events team are happy to discuss a personally tailored event.
READ MORE